Bangkok – City of Angels
Bangkok was founded in 1782 by the first monarch of the present Chakri dynasty. It is now the country's spiritual, cultural, diplomatic, commercial and educational hub. It covers an area of more than 1,500 square kilometres, and it is home to approximatlely ten million people or more than 10% of the country's population.
Over the last few decades, Thailand's capital city, Bangkok, has changed into a modern, exciting and sophisticated city. It offers to visitors not only the cosmopolitan amenities they would expect from other big cities, but also a unique treasure trove of cultural attractions. For tourists, Bangkok has a feast of attractions to offer. The city is dotted with 400 glittering Buddhist temples of great beauty and fascination, magnificent palaces, classical dance extravaganzas, numerous shopping centres and traditional ways of life.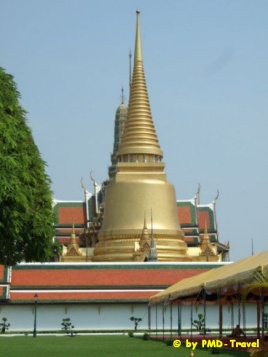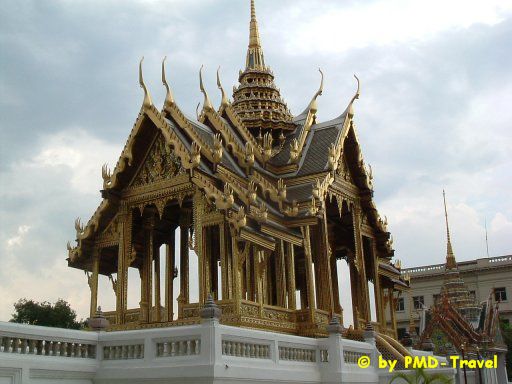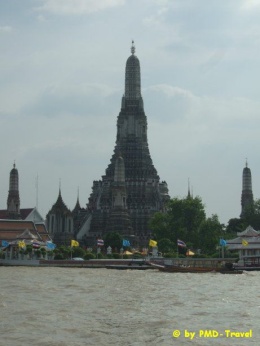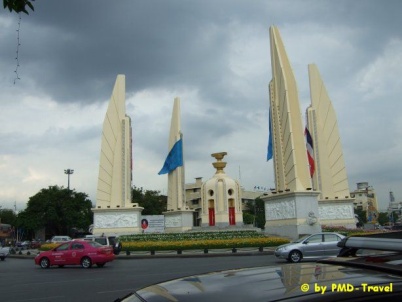 Bangkok
, also known as
Krung Thep
(short version) in Thai, is one of the 25th most populous city in the world with around 10 million inhabitants. It is approximately 1,500 km2 (600 square miles) and is divided by the Chao Phraya River into two large cities, Bangkok and Thon Buri. There are several bridges that connect these two areas to each other.
Bangkok is considered to be one of the world's tourist hotspots. Bangkok is Thailand's major tourist gateway, which means that the majority of foreign tourists arrive in Bangkok. The city boasts some of the country's most visited historical venues such as the Grand Palace, Wat Pho, and Wat Arun. Bangkok offers some of the biggest and most beautiful shopping centers and weekend markets in Asia. Find whatever you like, starting from cheap fake products to first class designer wear - Bangkok has it all. Bangkok offers a huge range of banging night clubs, wild and sexy go-go bars, classic western-style ex-pat pubs and a lot more for all tastes and age groups. Witness how empty streets and alleys transform themselves into lively, colorful and vibrant nightlife areas offering live music, classic jazz, trendy electronic music, head banging hip hop or any other style of music of your taste.
Shopping Areas and Markets
Shopping in Bangkok is not limited to one or two major streets. There are many areas throughout Bangkok affording ample choices and easy access. The following is just a selection of some of the principal shopping areas.
Ploenchit-Ratchaprasong
Top department stores and luxury shopping malls are concentrated in the area, namely Central, Sogo, Gaysorn Plaza, Isetan, Zen, Amarin Plaza, Peninsula Plaza, all of which together make the largest shopping promenade in Bangkok. Furthermore, the World Trade Centre and Narayana Phand Pavilion, host the official handicraft centre selling items from all parts of the country.
Ratchaprasong intersection is the gateway to several shopping areas such as Phloenchit-Sukhumvit, Siam Square - Mah Boon Krong (MBK), Silom and Pratunam-Phetchaburi.
Silom-Surawong-Patpong
Silom Road is the main artery of Bangkoks commercial heart and is paralleled by Surawong Road, while Patpong runs crosswise between the two. In addition to housing dozens of specialist shops and boutiques representing all the major buys, this area also boasts many branches of well-known retailers and several shopping plazas. Street stalls also abound, most notably at Patpongs famous night market.
Silom-Mahesak-Charoenkrung Road
Silom leads into Charoenkrung Road which parallels the Chao Phraya River, and notable shopping opportunities include gems and jewellery stores (Mahesak Road is a gem trading centre), Oriental Plaza and River City shopping complex.
Sukhumvit
Sukhumvit, like Silom, is one of Bangkoks main thoroughfares, and the long road is lined with shops, boutiques and modern shopping plazas ranging from Soi 3 (Nana Nua) up to Soi 63 (Ekkamai). Most shops and restaurants are concentrated between Soi 3 and soi 21 (Asok) and along shortcuts between Asok and Ekkamai.
Pratunam-Phetchaburi
A highlight in the district is Pratunam market, one of Bangkoks biggest centres for ready-to-wear clothing.
Baiyoke Tower
Located next to Bangkoks tallest hotel building, Baiyoke tower is one of the citys renowned garment centres.
Nai Lert Plaza
Situated close to Pratunam Market, Nai Lert Market is one of many shopping areas in Bangkok where you can buy just about everything from clothing to handicrafts.
Bang Lamphu
Situated close to the Grand Palace, Bang Lamphu has a lively market where clothing is a popular buy.
Chinatown
Centre on Yaowarat Road and Sampheng Lane, Bangkoks Chinatown offers a profusion of gold shops as well as several nearby traditional shopping places such as Ban Mo Jewellery Street, Phahurat Cloth Market and the Old Siam Plaza.
Bo-be Market
Situated close to Bangkok Railway Station, Bo-be is one of the citys renowned ready-to-wear clothing centres, both wholesale and retail.
Jatujak or Chatuchak Weekend Market
Located adjacent to Chatuchak Park, the weekend market, open on Saturday and Sunday, is a Bangkok landmark where you can buy just about everything from clothing to potted plants and everything in between a paradise for browsers and bargain-hunters alike. The market also offers items of furniture and home decor. It is also where professional and amateur art-lovers and artists meet.
Pak Khlong Talat
This is a wholesale market for all kinds of cut flowers and vegetables. It is located on Maharat Road near the Memorial Bridge. The market is crowded in the early morning and in the evening.
Information by Tourism Authority of Thailand